This Post may contain Affiliate Links. Please read our Disclosure for legal jargon.
Fall is approaching and it is all about cool weather, beautiful colors, and amazing festive vibes. Your calendar might be filling up with fun Fall activities but you must spend some weekend exploring your DIY skills!
Since we tend to spend most of the Fall days indoors, let's utilize this time to indulge in some cool DIY Fall crafts for adults. I mean, crafts aren't just for kids, right? Also, they would help you in decorating your house and make it Thanksgiving-ready.
These creative Fall craft ideas would be great to start that seasonal cheer in your home sweet home. From DIY pumpkins to scented candles and colorful garlands, we have it all. The autumnal favorites bring in a warm and cozy vibe to your home and they are so elegant!
Check out 31 BEST FALL CRAFTS FOR ADULTS and enjoy some Fall crafternoons this year.
1.Yarn Pumpkin Garland
We know how important pumpkins are if you are up for Fall decor this year and this DIY would tick every box of an easy, inexpensive decor idea.
You would just need an orange yarn, green pipe cleaners, and twine to complete this and decorate the fireplace mantel because you know it deserves some love! 
2. DIY Magnolia Pumpkin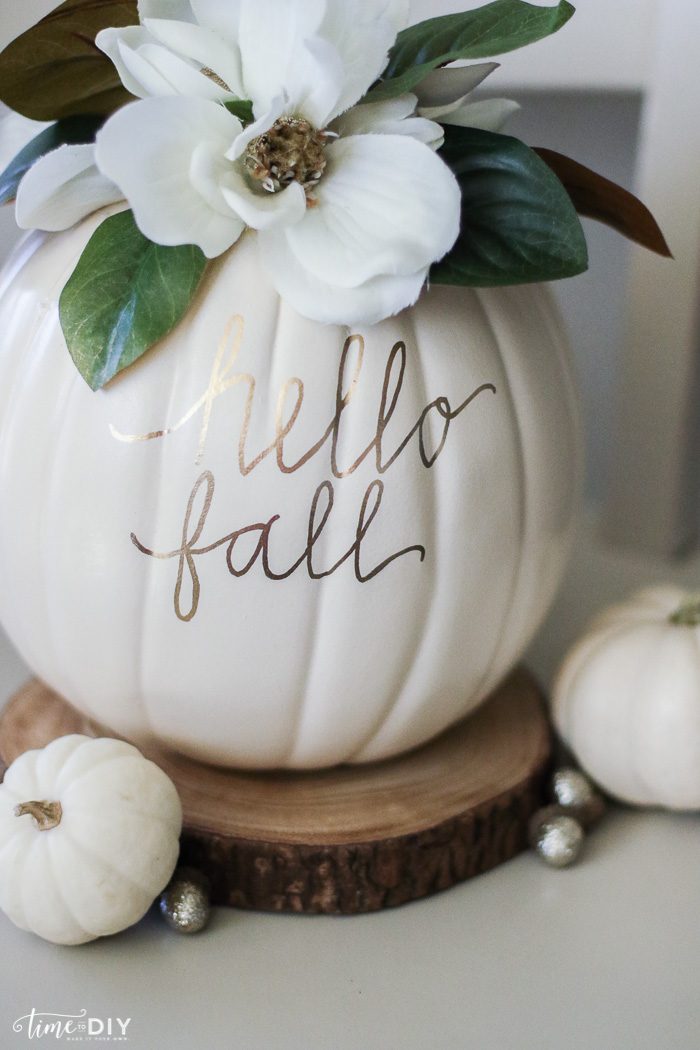 Pumpkins do look elegant but the orange color can be boring sometimes and yes, they look dull if not combined with the right background.
This magnolia pumpkin looks so good and those faux leaves and blooms are contrasting the decor item like nothing else. Try this gorgeous project this Fall and decorate your house. 
3. Leaves and Lace Wreath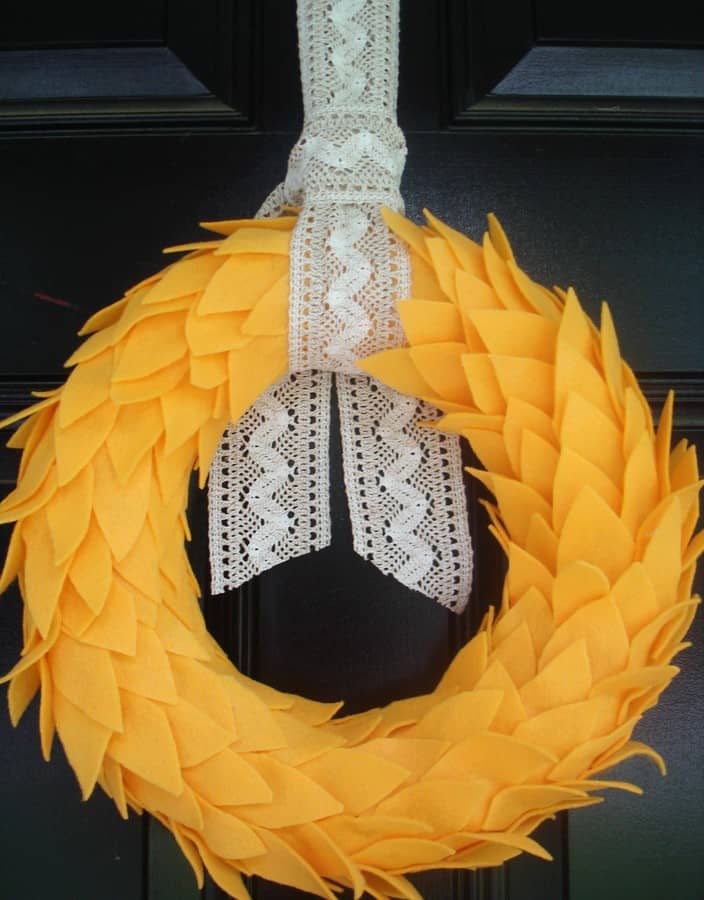 Amidst all those pumpkin spice lattes and apple picking, take some time out and decorate your front door with this vibrant Fall wreath. This monochrome wreath has a lovely seasonal texture and I can't agree more. Everything looks so elegant, the color, the white lace and it is very inexpensive as well! 
4. Yarn Pumpkin with Balloons
Okay, please accept that yarn pumpkins look sassy and this could be an amazing Fall project for adults. You would just need some white glue for this one and you can get that mesh look with the help of inflated balloons. Glue can do wonders, really! 
5. Fall Leaf Lanterns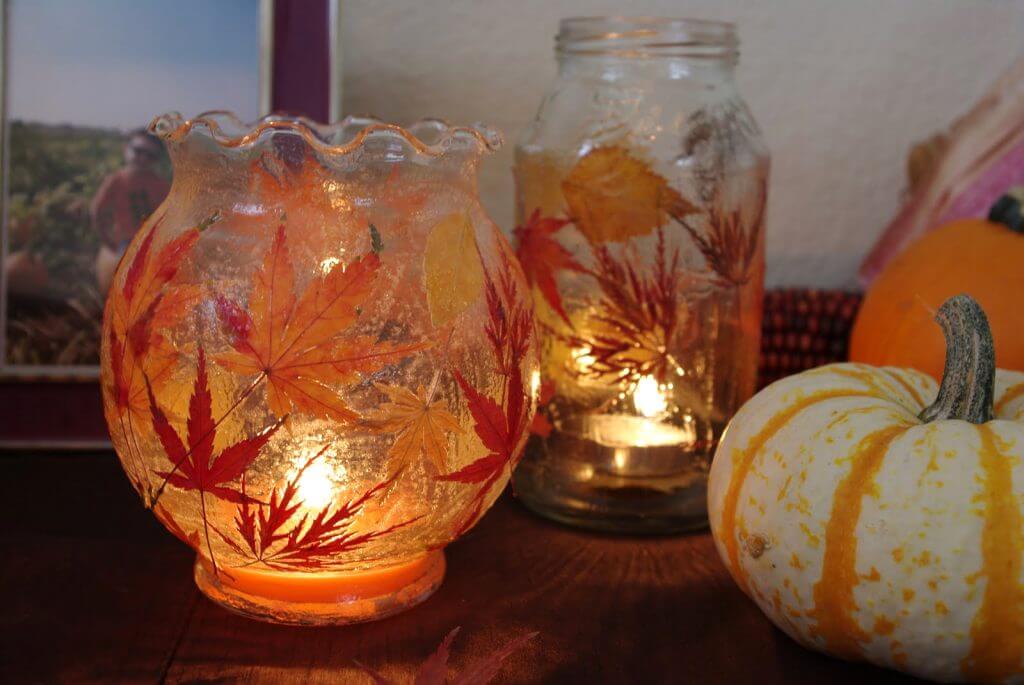 Assuming that the Fall-like weather is already there and you are amidst those brilliant Fall leaves, this DIY would help you to bring them indoors this time. The maple leaves texture looks very good on this statement bowls and you just need to place an LED to make it a luminary. 
6. Paper Leaf Garland
Create a whimsical garland out of paper leaves this Fall and drape it over your mantel, doors, and windows. Working with paper leaves is easy but the pattern matters the most here and you must nail it! 
7. Wine Cork Pumpkin
Wine corks look rustic when used in a decorative project and they look good as well. This DIY is made from spare corks and can be used for table decors when you are celebrating Fall. It would just take 30 minutes and I am sure you won't be throwing out the wine corks anymore. Check out DIY wine cork crafts.
8. Tin Punched Votive Cans
Celebrate Fall with these DIY lanterns and bring some sass to your Thanksgiving dinner. The hardest part here would be to punch the holes and I know you will get through it. I am sure it is one of the best Fall crafts for adults and I am sure you would relate. 
9. Paper Roll Pumpkins
From the plethora of DIY projects done with toilet papers, this one does have the potential to top the list. With glitters and cinnamon sticks, these little pumpkins look so pretty and I know you would agree with me on this. Try out this easy project this Fall and decorate your home.  
10. Book Page Pumpkin
This DIY is a simple craft project, but the results are stunning. You would need a paperback book to convert it into not-so-perfect circles with scissors and the pumpkin book would be ready. It would be a fun project for adults and you can hang it anywhere or simply use it as a beautiful centerpiece. 
11. DIY Fall Vases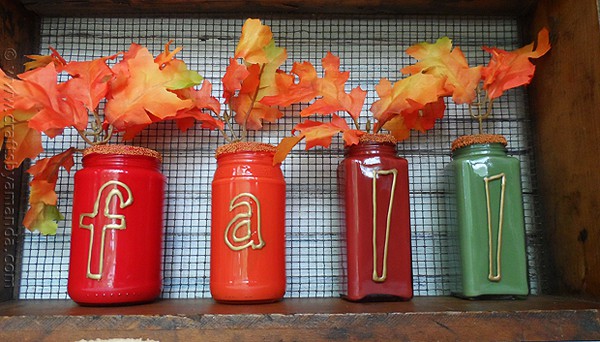 Create some showy yet rustic vases this Fall and put some silk flowers on display. You would just need recycled glass jars and 3D writer paint to scribble the message. Use this setup to greet guests this festive season and I am sure people would be dying to know the DIY recipe! 
12. DIY Foliage Pumpkins
Customized pumpkins look really good and we have already noticed that they don't have to orange to look fabulous. This DIY pumpkin is all about creativity with all those autumn leaves and it does look awesome, isn't it? The decorations would literally cost you nothing and I mean it! 
13. Wine Glass Centerpieces
We are not talking about actual wine glass centerpieces here but the cute pumpkin ones. This one is pretty inexpensive as you can reuse old wine glasses or buy some plastic ones at a garage sale and your job would be done. Make sure you collect proper enamel paints and a good rope and get ready to droll over this craft! 
14. Wood Block Pumpkins
Who said pumpkins have to be round? Fall decor is all about creativity and as adults, we can always explore our imagination skills. You would need some rectangular wooden blocks for this one and them just paint them up. Yes, it's that easy and inexpensive. 
15. Pumpkin Monogram Wreath
I don't think seasonal decors are complete without rustic and elegant wreaths and this pumpkin one is so unique! You can use the pumpkin monogram kit or make a cardboard cut out in the pumpkin shape and carry on with the DIY. Take it as a fun, fall craft project and get to work. 
16. Framed Plastic Pumpkin
If you could see all those lovely colors around you, those leaves and fun textures, Fall is here! Grab those faux pumpkins from a dollar store and frame them up. It sounds weird but it does look very good. The DIY would look amazing beside an antique lamp or make it wall art. 
17. Rustic Fall Centerpiece
I am a fan of inexpensive, DIY centerpieces because why not? They look stunning and I don't have to dig a hole in my pocket to buy one. This DIY decor is made from scrap wood, acorns, and moss and it could be combined with those yarn pumpkins and it does look amazing. 
18. Pumpkin Door Decor
Looking for a door decor that is not a wreath? This DIY has some unique and colorful ideas for you. Making the cute pumpkins are very easy and it would take you like 10 to 30 mins depending upon the painting you do and that's it! 
19. Mason Jar Lid DIY
Dive into the festive Fall spirit this year with these charming golden pumpkins and yes, they are nothing but mason jar lids. This one would just give you a break from orange and take you to an amazing glittery experience! 
20. DIY Fabric Pumpkin
We are not only ditching the round shape here but also the orange color. Celebrate Fall with these fabric pumpkins and I am sure you would earn some compliments and why not? You can customize the pumpkins with any pattern and choose a vibrant color for the leaves and it's done. 
21. Terra Cotta Scarecrow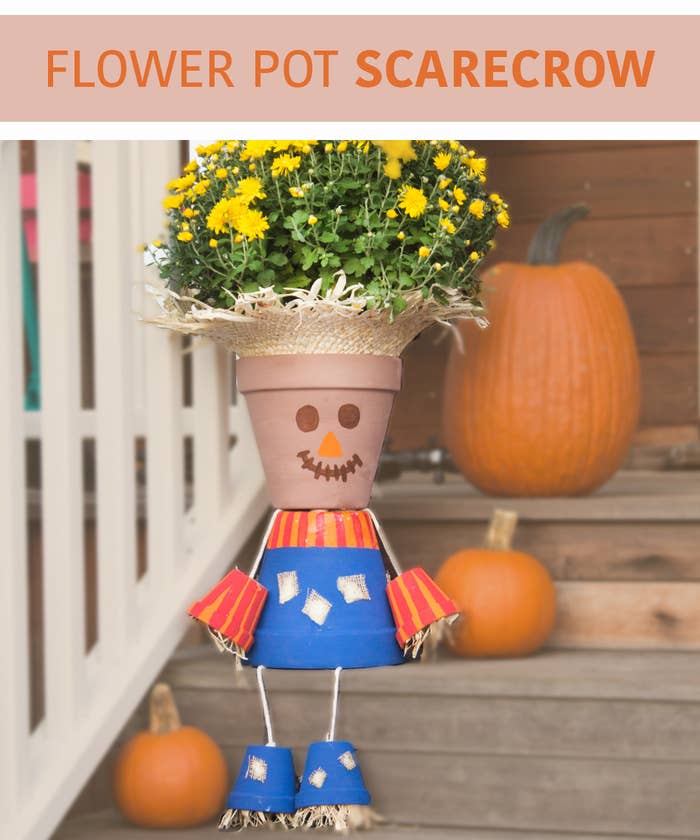 If you have flower pots in your house, it's time to give them a makeover. You wanted a fun project this Fall and this scarecrow looks perfect. This DIY requires some basic stitching skills and it would also consume time, but it looks gorgeous and can be an incredible decor for flower pots. 
22. Fall Apple Wreath
Let's take a break from pumpkins now and turn to green and red apples. This wreath has been made from faux apples which are foam stress balls, yes! You can craft while relieving stress and it looks so good. 
23. Wooden Entryway Sign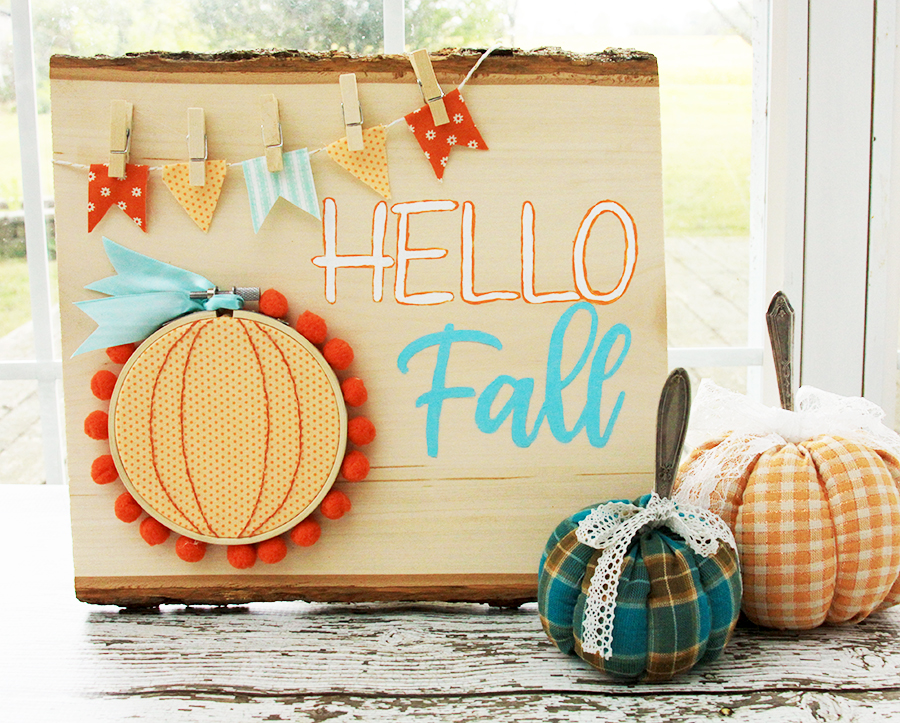 Place a cute little table on your entryway and make this amazing decor to light up the area. This Happy Fall wooden entry sign is made on a raw wood plaque and it does have a rustic vibe. You can also combine the sign with plaid pumpkins, you know, just to enhance the beauty. 
24. DIY Pumpkin Mason Jars
We used the lids already, know let's convert the entire jar into a pumpkin! Yes, we have already ditched the round shape so it doesn't matter. These are so cute and can be used for storing purposes as well. It is a win-win situation, really! 
25. Glittery Acorns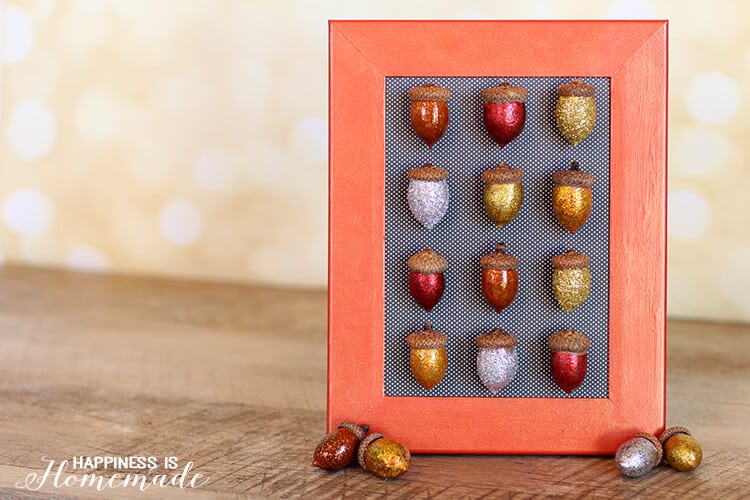 Make some glittery acorns and turn them into a unique specimen art this Fall. You would just need some faux acorns, bond glue, glitter, and a frame for the specimen art. Using a small dish of kinetic sand to hold the acorns while it is drying would be a good hack and can also help you in your future craftworks. 
26. Paper Leaf Cake Topper
Making a delicious spice cake this Fall? Upgrade it with this DIY foliage in the colors of your choice and in you would be stunned to see the results. Also, if you are having a white icing, make the most of it by using vibrant colors for the leaves! 
27. Pimp My Gourd
Blank gourds have great potential and they could turn into sparkly decor items in no time. Jazz up yours with rhinestones and celebrate Fall with the bedazzled gourds. You can work with both faux and real ones, no issues. 
28. DIY Color Wrapped Wheat
In for a quick and elegant Fall project? Take some wheat bunches and wrap them with some colorful embroidery floss and your job is done! Add some color to the Thanksgiving decor with this DIY. It is the perfect amalgamation of tradition and color, isn't it? 
29. DIY Pumpkin Scented Candles
I would never miss scented candles if we are talking about some amazing Fall decor and yes, we have the pumpkin shapes to get that Autumn vibe! You would need small faux pumpkins and soy wax flakes for this fun project. I mean, scented candles are very precious and they can make those dinner dates special! 
30. Autumn Leaf Crowns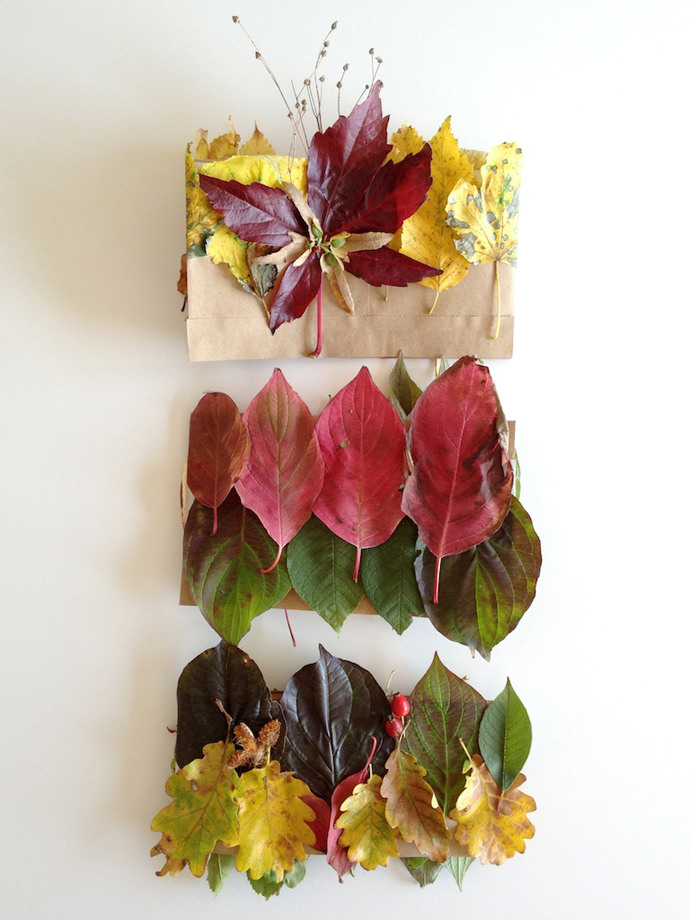 Yes, another one that would consist of those natural autumn leaves and you can use faux leaves if you want to use the project next year as well. You would just need a paper bag, glue, and colorful leaves for this easy DIY. It would be an awesome Fall gift for your younger ones and they would love it. 
31. Fall Flower Favors
Big planters everywhere are bursting with beautiful chrysanthemum and why not? Fall is here and you can work on some easy crafts. Make a crepe paper version of these colorful flowers and it could be a nice return gift for your guests on Thanksgiving! 
After listing some of the best Fall crafts for adults, I am sure you have already chosen your favorite. If you are iffy about the results, don't be, just try and I know that you will make the best of it. Get to work right away!