This Post may contain Affiliate Links. Please read our Disclosure for legal jargon.
Are you not happy with your cluttered laundry room? Want to transform your laundry into a standout space?
Say no more. We have got the right list offering you plenty of easy and attractive ideas that will simply make you go WOW.
If you are worried about the time you need to spare for this or the level of complexity, you can just relax. It is not a Hercules job! With minimum effort, you can transform your laundry room into something just as stylish and pretty as the rest of the house.
Here are a few designs which will definitely spoil you with choices.
40 functional and stylish laundry rooms design Ideas
1. Shades of Gray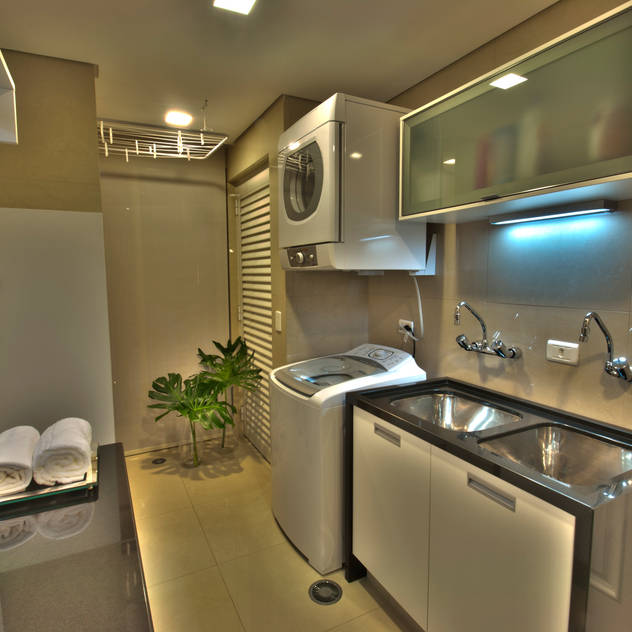 Create a calming laundry room with different shades of gray and add the vibe of sophistication together with style with this laundry room design. You can also mismatch kitchen furniture like stylish sinks for extra amazing decor.
2. All Natural Wood
If you have extensive research experience about interior designs, you must be familiar with contemporary designs where the king is natural wood. Design your laundry with natural wood fittings and add a chic look to it. 
3. Printed Wall
Bathroom interiors do have scenic and landscape designs in the tiles, but can that be done with the laundry room? Absolutely yes. Make those wall coverings attractive with vivid blue colored prints and contrast the floor tiles as well. 
4. Organic Design 
Very similar to the large laundry, this one is perfect if you have ample space for your laundry. Add woven baskets, install green plants and hangers to give some classic organic look to your laundry. This design would look perfect with white furniture and walls. 
5. Seaside Look 
Make your laundry room an inviting one with this made-over seaside style. The unique walls add to the glamour and beauty of this room. There are custom folding stations for space-saving as well. Install some matching machines for a more stylish look. 
6. Bold Floor
Transform a neutral space to something extravagant by installing bold tiles on the floor. Perfect if you have a small space for your laundry. Mix and match the surrounding furniture in this case and flaunt your designing skills with pride. 
7. All White
An interior renovation is incomplete without white. Be it furniture or tiles or walls, white can make anything look more than superb. Install this pearl white laundry room which is equally functional and fashionable. With stacked machines and white walls, it will definitely attract your guests. 
8. Tree Patterned 
Much like those bold landscapes, choose a lively tree pattern to adorn the walls of your large laundry room. Give that authentic dramatic look to those marble countertops and enjoy the wood open-shelving for easy storage. 
9. Kitchen And Laundry 
If you don't want to dedicate a separate room for your laundry jobs, combine it with the kitchen. This neutral-hued kitchen and laundry is a perfect example of match and contrast. This easy and fancy look will definitely save you a lot of space. 
10. Luxurious Laundry 
Ever thought about building cabinets right above those machines? It's time to make the most luxurious laundry one can ever imagine. The custom cabinets add to those stylish pulls out racks for drying and storage. You can also add artworks to complete the sensational look. 
11. Utility and Laundry
Much like the kitchen cum laundry zone, this one is a multipurpose laundry design together with a utility room. All those wood racks and white hues make the flex space an amazing part of the apartment with ample space for washing and drying of clothes. 
12. High Impact
A good hue can transform compact spaces to something worth drooling over. Choose this lime green glass tile for your laundry and pair them with large cupboards and clothing rods. You can also install some indoor plants for some extra beauty. 
13. Hide Away
If you are a hardcore aesthetic and don't like those machines and drawers on display, hide them behind a large cupboard made with reclaimed wood. You are free to design the cover with your creativity and don't forget to choose the background accordingly. 
14. Galley Layout
If your laundry room is somewhat narrow and longitudinal in shape, check out this galley layout style to design the perfect laundry. Use close storage drying racks and wall-mounted furniture. Don'tforget to contrast the walls and floors with pops of color for some extra beauty. 
15. Painted Machines
If those machines are a part of our laundry room, why not customize them? Paint your washer and dryer and contrast them with stylish cabinets. You can also give them a chic look by painting patterns on them. Sounds exciting, isn't it? 
16. Large Laundry
 
If you are renovating a large and spacious laundry room, this one is for you. This design has ample space for all your chores without cluttering the space. So, are you looking forward to implementing this? 
17. Traditional Black
Add some cheek to your laundry room with these traditional all-black cabinets and black and white flooring. Use white tiles near the sink and you have a contrasted yet sophisticated laundry room ready!
18. Colorful Cabinets
If we can install colorful machines, why not cabinets? Install statement color cabinets in your laundry and pair them up with a custom white sink to complete the look. Just like the machines, you can also paint that furniture with your favorite hue. 
19. Basement Look
Perfect for a low ceiling area, this one is perfect. No long cabinets or storage, only built-in folding nooks, and woven baskets. You can also use glass containers to store detergents and other essentials. 
20. Glass and Wire 
Give your laundry room an industrial look by installing glass-front cabinets and caged storage bins. No more wooden racks or steel drawers, just some efficient and functional baskets and your work is done. 
21. Unique Flooring
Decorate your laundry room with unique and incredible flooring. Pair up the natural slate and some river rocks to create this amazing flooring. The flooring is the essence of this design. 
22. Stone Flooring
Much like the last one, this one is about installing stone flooring. This easy to care, natural stone floor matches with the surrounding machines and gives a luxury touch to the basic layout of the room. 
23. Bold Flooring
Nothing can be bold enough if the color doesn't define it. If you agree with me on this, use high impact colors like indigo and mushy green. In this design, they have combined it in a herringbone pattern and have made the laundry room demand attention! 
24. Mosaic Tiles
Treat those walls in your laundry room with a backsplash of mosaic tiles. Add some style to them with colorful paints and make them stand out like never before.
You can also create an illusion of a higher ceiling by making the soffit, nearest to the ceiling the same as the wall colors. A similar look can be achieved with wallpapers as well. 
25. Statement Cabinets
We know how good statement colors can look if matched with a vivid background. This idea is appreciating the beauty of baby blue cabinets contrasted with chic white furniture and a basic sink. You will surely earn some extra compliments with this design! 
26. Statement Cabinets
We know how good statement colors can look if matched with a vivid background. This idea is appreciating the beauty of baby blue cabinets contrasted with chic white furniture and a basic sink. You will surely earn some extra compliments with this design!  
27. Shiplap Walls
Country styles can never get old and this design is one of them. Combine shiplap walls, unique shelves, and a freestanding sink to yield that vintage look to your laundry room. You can also add some extra tin storage pieces and increase the flair. 
28. Modern Laundry 
Meant for a farmhouse that is decked with modern amenities. This simple yet classy and sleek design can be the definition of luxury if you will.
With glass mosaic walls, hanging racks, and matching ironing board, everything is just so perfect. The sea-green rug and the attractive light fixtures made it something beyond beautiful. 
29. Pet Care Laundry
Build a pet washing station right next to your laundry. The entire area can withstand splashing water and most of the time laundry rooms are near the back entrance. Trust me, the wash station would be the essence of the room and you would never regret this!
30. Pet's Bed 
If we can build a pet wash station in our laundry, why not a resting place for our four-legged partner? Laundry rooms are very cozy areas and it can be a good place for your pet to sleep and rest. You just have to keep the room dry right after use, and that's it!
31. Barn Doors
The dryer and washer can hide behind those cabinets, so why not a barn door? Use some rustic barn door to cover your laundry machines so that you can just slide them away! This design is perfect for a high traffic hallway. 
32. Exquisite Entrance 
Till now we had focused on ideas to renovate your laundry room into a more attractive one. This one will save you time and money as we need to redecorate the entire room, just an eye-catching entrance, and checkmate!
Barn doors are extremely effective for such designs and you are free to choose a sleek or a rustic style! 
33. Mud Rooms
If you have kids who love to get stained with mud, this one's for you! Use your laundry as a mudroom where the kids could drop off their dirty clothes right away. Being the super mom or dad, you are there to make it ready for the next outing! 
34. Just A Wall
How to make a wall fully functional? By transforming it into a compact laundry! Install the dryer and washer between large cabinets and make a folding area right above the machines. This will not only save space but also make that area look quite good. 
35. Wood and White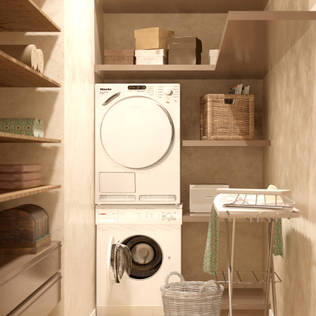 We have already mentioned an all-wood laundry, and this one is just a modification. Contrast those wooden walls with white furniture and artworks and add that priceless cozy feeling to your laundry. You also have plenty of space for the ironing boards.  
36. Creative Laundry 
I am not asking you to be creative with your clothes here but the interiors. Make your laundry the craft room of the house and display all your creations on top of the cabinets. It would look magical! 
37. Closet Laundry
If you want to install the laundry in your favorite closet, don't be confused, you can always do that. Be sure to plan the designs and use ventilated doors for a more attractive look. 
38. Laundry Bathroom
Assuming you have ample space in your bathroom, you can install a full-fledged laundry in the bathroom itself. Match the bathroom interiors with the laundry machines and furniture and you have the perfect laundry cum bathroom!
If you are still confused, don't be. Just choose your favorite and get to work. All these ideas would surely transform your laundry experiences and you will never regret your choice.
39. Stack Up
Want some decluttering of your laundry room? Well, you can simply stack up those machines on top of one another and save plenty of space. Do the same for storage shelves and also add stylish light fixtures and artworks to add some extra sass. 
40. Country Style
My niece has a farmhouse in the country and recently she designed a beautiful laundry room that opens up to her lawn. You can choose a similar design if you have a garden or maybe a poolside and enjoy the mesmerizing farmhouse charm.