This Post may contain Affiliate Links. Please read our Disclosure for legal jargon.
Are you overpowered with the measure of laundry tasks? Do you wash and overlay all by yourself? 
If your answer is yes, it is time for a little relaxation of your delicate hands as we are about to disclose some perfect laundry room ideas. Don't worry about space, the machines can fit in the kitchen corner or maybe right in the bathroom. 
You do have heaps of clothes lying near the staircase that demands to be washed and cleaned and pressed. It is time to give them a permanent restoring location that is none other than a compact yet efficient laundry room!
You might dedicate a smaller space for your laundry, but trust me, you don't have to compromise in anything. You can design a laundry with full efficiency and all the essentials well arranged. 
Choose the most suitable option from this list of 41 Clever and space-efficient Laundry Room Ideas that are practical and functional.
41 Clever and Space-efficient Laundry Room Ideas
1. All Slanting 
Place the machines in a small corner of your house, preferably right beside the bathroom, and install slanting racks right above them. Use this stylish storage idea to keep baskets, wet clothes and essentials like detergents. 
2. Peg Wall
Brooms, mop, detergents, and sprays are all those things responsible for the cluttering of your laundry.
Arrange them on a peg wall right beside your machines and you have achieved a well-organized space. You can also install baskets on the wall to store towels and other odds and ends items. 
3. Hanging Dryer 
This one is very efficient and a pretty design as well. Place the dryer right above the washer in a hanging position to save space.
You can also install a laundry sink right beside the washer for more efficiency. This design also has a folding counter which makes it a perfect laundry layout. 
4. Pull-out Rack
Not every item can be poped into the dryer, can they? So, having a separate drying rack would not be such a bad idea. This neat pull-out drawer design will help you in space management in a smaller laundry room and would also do its job well. 
5. Hidden Board
Ironing and pressing are also a major part of your laundry job but for a small laundry room, it is not possible to save a space for the ironing board. With little redesigning, you can maximize the space by hanging the board and other essentials on the wall, you know, inside a small wall cabinet! 
6. Compact Layout
As said in the title, this layout is meant to maximize the space and use it super efficiently. It has a top loader washer and dryer placed side by side with loose folding and hanger space right above the machines. This storage option is very attractive and can mix with any background. 
7. The Cozy One
Taking care of the space, this layout is specially designed for top loaders, where you could avoid cluttering.
Top loaders are bulky compared to the front loaders, but with this design, you can simply forget that and get a cozy laundry room vibe with this idea. You can also place some light fixtures on the shelves for some added warmth. 
8. Pull-Out Board
We did mention hanging ironing board, with a slight modification, the ironing board here pulls in and out like a drawer. It is extremely important to find a suitable place for your ironing board without consuming tons of rooms. Isn't it awesome? 
9. Organized Laundry
It won't be fair to call this one just an organized laundry, I mean it is the boss of all laundries in terms of organizing skills. In this design, you can store all the essentials creatively and also without cluttering. Whether it is towel racks or clear canisters or counters, you can design just everything here. 
10. Keep It Simple
If you are looking for something moderate and simple, this one is for you. This layout is very easy to design, effective, and space-efficient as well. Here the light fixtures and tidy look make the design stand out among its competitors. 
11. The Pillars
This is my personal favorite not only because it's super attractive, but it has used space so efficiently. If you don't have a laundry room or there is no ample space in the bathroom to accommodate a laundry, simply find a wall guarded by two pillars and fit the machines in between. 
You can install racks or counters above the machines and decorate them with your creativity. This could easily fit in your interiors without drawing a lot of attention. 
12. Laundry Caddy
This multi-purpose caddy is there to hold your ironing board, baskets, storage space and all essentials in one small space. It is a clever design consuming very little space and it is also wonderful if you find everything right in one place.  
13. A Dryerbox
Most of the time, the dryer tends to stick out further than the washer if they are placed side by side. This is mainly because of the dryer vent. You can construct a dryer box by drilling a hole in the wall behind the dryer and improve the placing. This would also prevent leaking and it would be easier to clean as well. 
14. Fold-Down Racks
Use folding racks in your laundry to save space as they can be folded back when not required. These ingenious drying racks are meant for the wall and you can pull them down until your clothing is dry and then they are out of the way. 
15. Laundry Cabinet
This pretty design would be your perfect match if you don't want to drag attention to your laundry room. Hide the machines and essentials behind the doors of a tall cabinet and your job is done. You need to stack up the machines for this one, which is easy and again very efficient. 
16. Integrated Shelves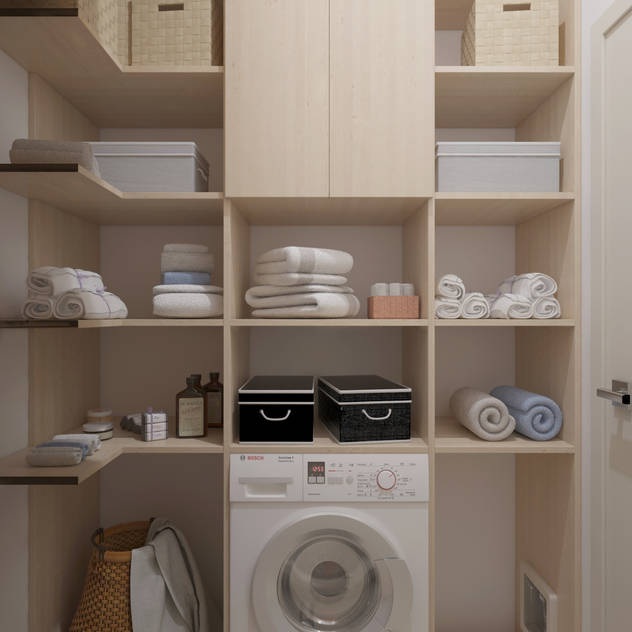 This amazing design is meant for space-saving and has uncountable shelves that will make your laundry experience smooth. No more worry about cluttering or space shortage, it has all. Keep those machines in large compartments and arrange other essentials according to their size. 
This full-proof design is very beautiful and gives that unique cozy vibe! 
17. Sliding Storage
Modify your coat closet to a laundry space by installing small storage racks and compartments right above the machines.
It has one-of-a-kind sliding storage racks below the folding counter. Use durable melamine for the fixtures here for long-lasting color. You can also stack up the machines here for extra room. 
18. Portable Laundry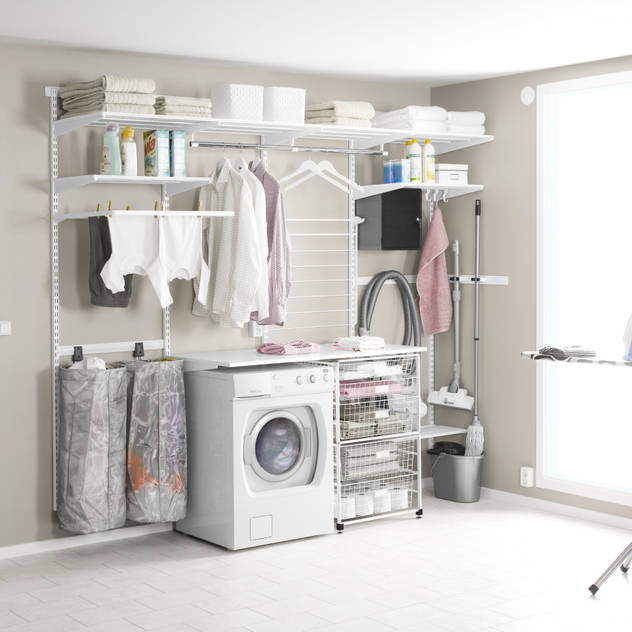 We know how efficient folding tables are, don't we? Imagine having an entire laundry made with portable shelves and drawers together with folding tables.
The machines could be placed on bigger shelves which can be displaced as and when required. This piece of art can fit absolutely anywhere and everywhere! 
19. Plants And Laundry
This gorgeous laundry design is very simple and won't take up much space. If you have a small storeroom or maybe a big size kitchen, this would fit very well.
The best thing is the layered racks at the corner. It can be used for the display of plants or artworks and it can also be used as drying racks. 
20. Hanging Is The Key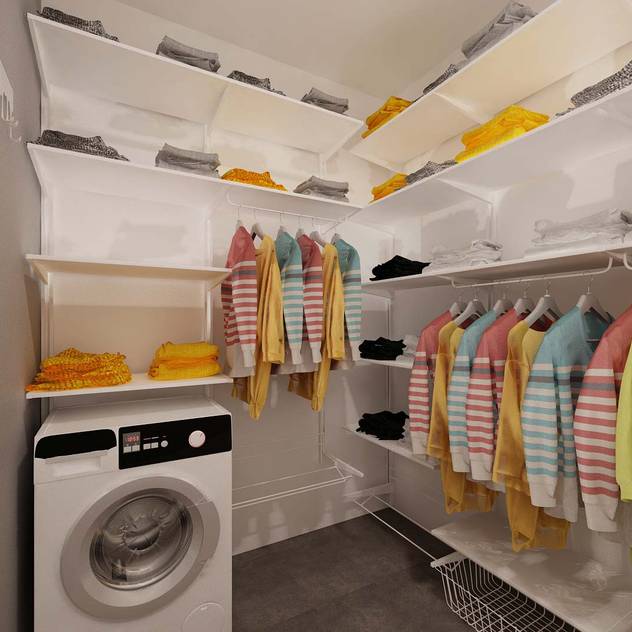 For any laundry room, organizing the clothes properly should be the primary concern and for maximum space-saving, we should hang them efficiently.
This design shows how to install hangers and shelves productively in the room so that you get the best results. You can also be creative with the colors of those hangers!
21. Transitional Style
If you have a free L-shaped corner in your house, this design will help you set up your laundry there. This attractive layout has the folding table right above the machines and has a separate cabinet for hangers and baskets. Let's say it, the white hue has made it beyond perfect! 
22. Stacked-Up 
You must have always considered stacking up things when it comes to space-saving, This idea incorporates that instinct and stacks up the machines above each other. It is also placed right beside the pet wash station and therefore is a multipurpose laundry. 
23. Matching Storage 
For this design, you need to install matching storage fixtures like stylish racks and make your small laundry look astonishing. Here, the machines, the tissues, and the racks are all white and we cannot stop admiring its beauty! 
24. Efficient Storage
Other than essentials, we cannot afford to let less important items occupy storage. Efficient storage is very important here as we can always use corners or space between the machines for ladders and ironing boards. This will help a lot with the decluttering. 
25. Labeling
This one is a DIY to make your small laundry look neat and well organized. Use stickers, glitters, and chalks to perfectly label those bins and basket. This would also help the amateurs and they would be thankful to you! 
26. A Lively Cabinet
Those cabinets that help us in space-saving and also declutter our laundry, needs some appreciation. Show them some love by making them a chalkboard cabinet and show your creativity by decorating it with quotes and patterns. 
27. Handy Basket
The idea here is to hang a huge basket on top of the appliances so that they can be brought down only when required. This layout is very efficient and it can literally fit inside the space for a wall cupboard. You can also play with the backdrop to make it more eye-catching!
28. Bookshelves To The Rescue!
Having a low built-in storage space? Bring in a bookshelf in your laundry and use it as storage for the supplies. Keep towels, detergents, and baskets and you can also use the top as a counter for folding clothes! 
29. Laundry Lines
If you are looking for a more classic and traditional way to dry your clothes, use the indigenous retractable clothing line. You can hang your delicate clothing here and can save energy with this eco-friendly method. Also, it is evident that it will consume less space than modern drying racks! 
30. Crib Drying 
Do you have a small laundry room, but tons of clothing gets washed every day? If you just said yes then this could be your savior. Repurpose an old crib, hang it in your laundry ceiling and use it as a drying hanger. Undoubtedly, it can store the maximum apparels at once. 
31. Machines Pedestal
Give a slight retouch to your laundry by building this washer and dryer pedestal. Use it to store baskets and bins and maximize your space. This will surely make your laundry look bigger than its actual size. 
32. Sunshine Laundry
Transform that small corner beside an undressed window and utilize the natural light to lit up your laundry room. While the front loading machines allow ample space above them for the shelves, you stand there eyeing those unique apothecary jars and bowls and smile!
33. Laundry Pocket
Accent walls can be used as a sweet and simple laundry pocket. In this design, the small laundry is hidden in a niche with a brightly colored sliding barn door which is very efficient. If you don't mind your machines being exposed, you can strike off the door from the layout. 
34. French Style
This pretty layout will surely fill you with happiness as you feel the french vibe it offers. Filled with woven bamboo baskets, black and white color schemed floors and those amazing artworks, everything makes it so special. Moreover, the live plant pots soften the look of this laundry. 
35. Old And New
What happens when the past amalgamates with the present? I would say, wonder! The homespun curtains in the door windows and the modern washer and dryer, they are so different yet they gel so much. The wall holds old-fashioned laundry equipment and the brick flooring adds cherry to the desert! 
36. Kitchen Cupboard
A variation for the kitchen cum laundry, this would be least space-consuming and very efficient. You just need to free up a cupboard in your kitchen and install laundry essentials in it. You have your very own, mini laundry ready!
37. Sorting Laundry
Yet another laundry design, focusing on the importance of having folding racks and sliding drawers. This layout would help you set the sorting area perfectly with a big folding counter and pure white laundry bags. 
38. Color Pop
Who said the laundry machines cannot be vibrant? Choose a lively color for your washer and dryer combo and mix and match the surroundings with them. The beadboard on the walls, the elegant lighting, and the neutral doors, everything complements with that brash navy blue hue and makes the decor beautiful!
39. Pretty Pink
Pink would be perfect if you are looking for a cute laundry. This layout can be done inside your master bathroom, just by remodeling a corner and installing a washer/dryer there. Color the door pink and place some pink frames to make it look more attractive and chic! 
40. Wooden Counter
Being inspired by those stack up ideas, this design is a modification of the same for a better look. Here, the machines aren't placed right above each other but the upper one is inside the wall shelves. The wooden counter in between has a sink and a folding area.  
41. Bathroom And Laundry
If you do have a little extra space in your guest bathroom, install a small laundry in it. I mean, the bathroom is rarely functional so why not use it more efficiently? You can also decorate the shelves by placing green plants!
I hope we have filled your thoughts with ideas now. If you are not sure which one to choose, don't think much and just spot any free space in your house. You will find yourself setting up a small laundry very soon!