This Post may contain Affiliate Links. Please read our Disclosure for legal jargon.
Christmas is almost here and the festive season has set in. Did you plan an inviting holiday retreat right at your home? Are you up for brown and earthy decors this Christmas?
There are so many ways to decorate your home for holidays and rustic and elegant decor ideas can never go out of style. Also, can anyone deny feeling warm and cozy at a house with hot cocoa while relaxing near a glammed-up fireplace? Absolutely no!
Incorporating a rustic feel to your Christmas decoration would involve lots of pinecones, burlap crafts like wreath and garlands, DIYs with mason jars, and everything is inexpensive. You can even decorate the tree with burlap ribbons and I am not kidding, they look fabulous!
Check out 31 RUSTIC CHRISTMAS DECOR DIY IDEAS and get inspired with all the natural accents from this sassy collection!
1. Burlap Christmas Wreaths
Wreaths are no doubt the heart of any seasonal decor and we have a beautiful burlap one for your Christmas decorations this winter. Take a big wire wreath and rolls of burlap ribbon. You just need scissors as you make the burlap twists to complete the DIY. Make the look rustic with a red bow and it's done! 
2. An Advent Calendar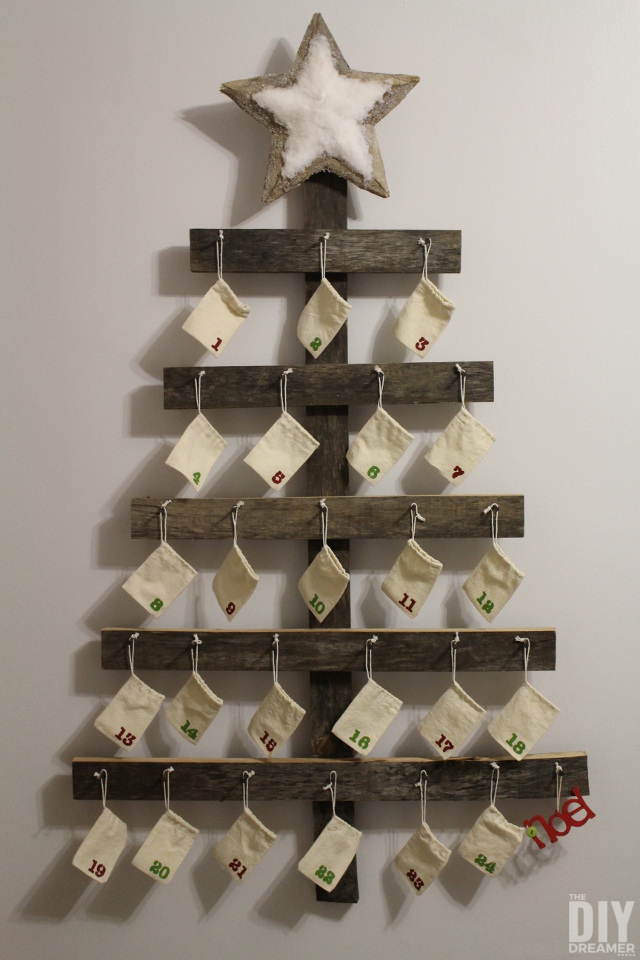 It might not take you weeks for this DIY, but your family is gonna cherish it for a long time! You need wood, antique nails, wood paint, and some Christmas ornaments for the base. The treat bags are muslin and you would need a foam brush and wax paper to complete the entire setup. 
3. DIY Winter Woodland Sign
Seasonal home decor is incomplete without a showy and rustic wall art, isn't it? Bring a common wood rectangle to life with this easy DIY. You would need acrylic paint, stencils, and poly sealer for the writing. You can customize it or change the coats. Choose the perfect wood stain that would contrast the wall background and you are surely earning some complements!
4. Ribbon Christmas Star
Looking for a 15 mins DIY project this winter? We have the ribbon Christmas star! Take a wooden pallet or join old barn wood pieces together and chalk out a star. Punch five nails on the five edges of the start and finally, wrap the ribbons around. This easy decor piece can be placed beside the tree and it looks gorgeous! 
5. DIY Holiday Sign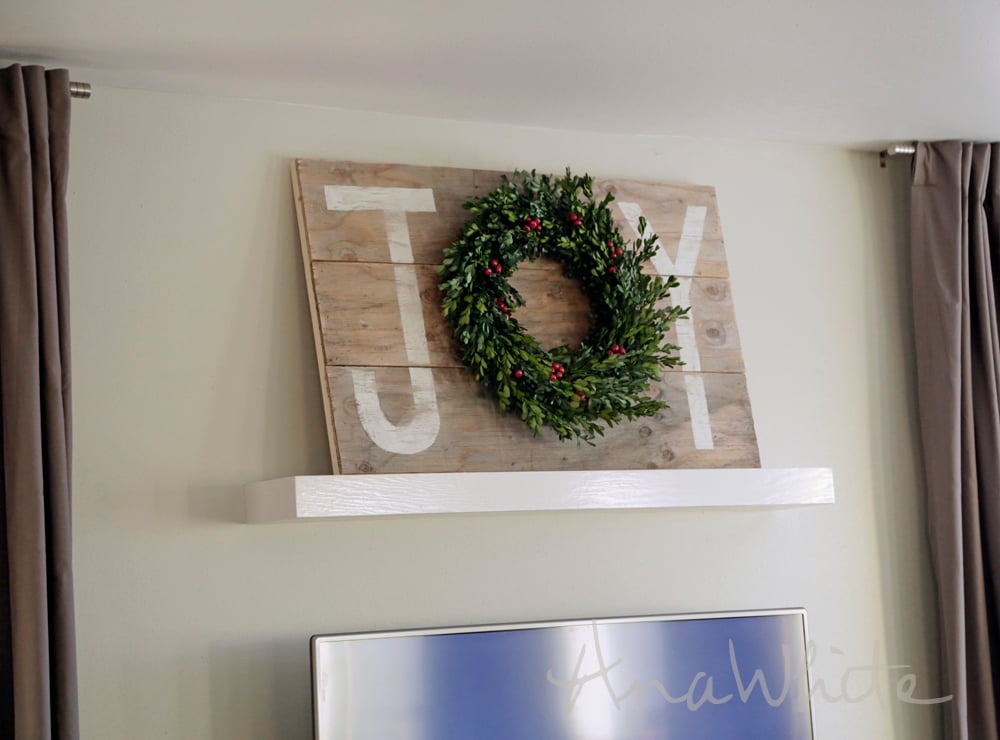 With the green wreath in between, this wall art is so unique and well, very easy to make. If you have a wooden pallet from last year, stain it again and prepare the letter here.
The elegant wreath can be made from wax leaves just like the burlap one or you can buy it as well. It would look perfect on shelves and mantles. 
6. Mason Jar Light
Bring in the magical glow to your backyard this Christmas with these mason jar lights! Use rustic nails to hang the jars and collect as many fairy lights as you can. Try to put the lights in a zigzag pattern and you can also attach snowflakes to keep up with the theme! 
7. Pallet Christmas Tree
If you are looking for an amazing lawn decor idea in just $5, this one is for you! Take in the wood pallet and cover it with a pretty wood stain, a light color would be better. You just have to staple some fairy lights in the shape of the tree and the lawn decor is ready to roll! 
8. Snowy Candle Jars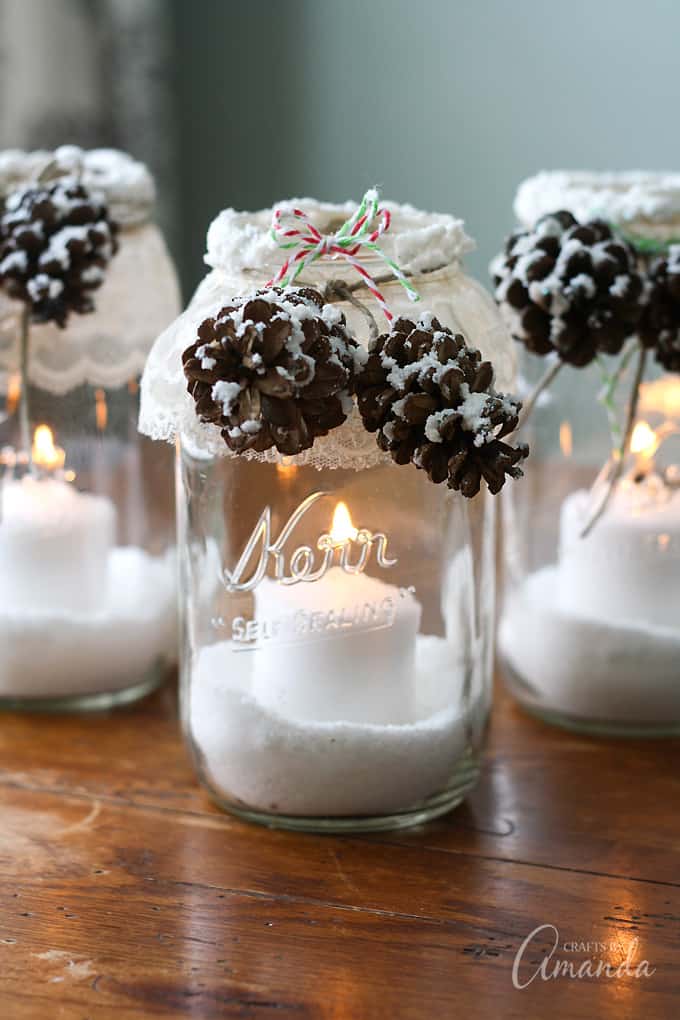 Christmas is incomplete without lights, and I mean lots and lots of vibrant lights. Let's make a snowy pinecone candle jar this time. Pick up some pinecones from the store or use the autumn ones and arrange snow texture paints for the effect. Don't forget to choose some wintery and festive looking luminaries. 
9. Snowy Mason Jar
Another variation to the candle jar, this one has berries and the jar is completely covered with white crystals to adhere to the look. You would need Epsom salt and glue to get this unmatched effect. Buy the ornamental accessories from any craft stores and complete this easy DIY. 
10. Rustic Candle Holders
Bring home that rustic charm this winter with this easy candle holder decor. You would need a defense spray, drill, and LED lights for this one. Multiple pieces of walnut wood have been used as the base, you can also go for fine. Combine it with greenery and berries for the Christmasy-vibe. 
11. Holiday Mantel Decor
Decorate your fireplace mantel this holiday season because the focal point of your home deserves some love and affection! Take a long log of any length and use faux berries to incorporate them throughout the greenery. You can also combine the decor with treat bags or matching stockings, I mean they are looking lovely! 
12. White Berry Wreath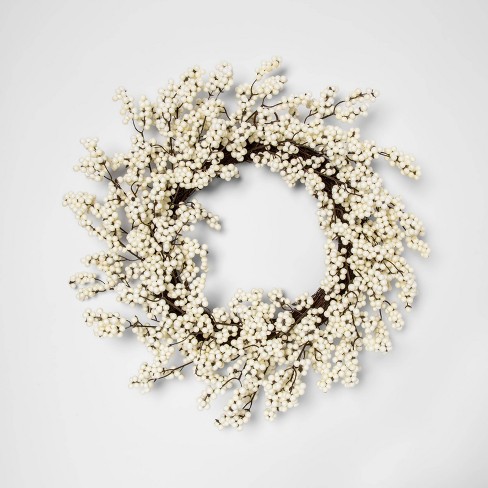 Wreaths look so beautiful and no matter where they are placed, they can completely transform the decor! You would need grapevine wreath, white berries, and ribbon for this one and the DIY would be complete in a few hours. 
13. Rustic Fireplace Mantel 
Buy a faux and green garland from the dollar store, take some bunches of sticks and spray paint them white and arrange fairy lights. Place the garland on the mantel and make it extravagant with knit stockings and giant, snowy pines.
This look would be a show winner if the mantel is of hardwood and you can't just miss this one! 
14. Silhouette Pallet Art
If you have some leftover wood slice vase filter from your Autumn decorations, it is time to reuse this. This silhouette pallet art of a deer head establishes the Christmas vibe like nothing else and we cannot agree more.
Trace the deer head design perfectly because that is the most important part and the rest is very easy!
15. All-Glam Tree and Mantel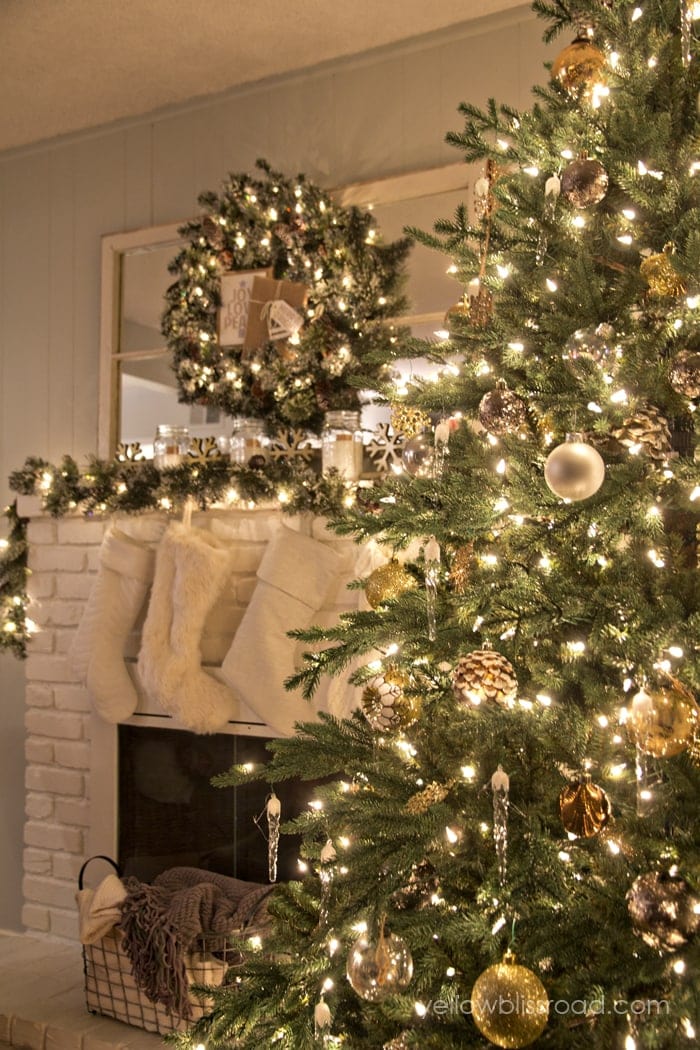 Want to decorate your tree with every glam and sass this Christmas? This easy decor would be your savior! The tree and mantel compliments each other and I can't take my eyes off this one. Buy gold and copper shatter-resistant ornaments to recreate this amazing decor at your place. 
16. Burlap and Berries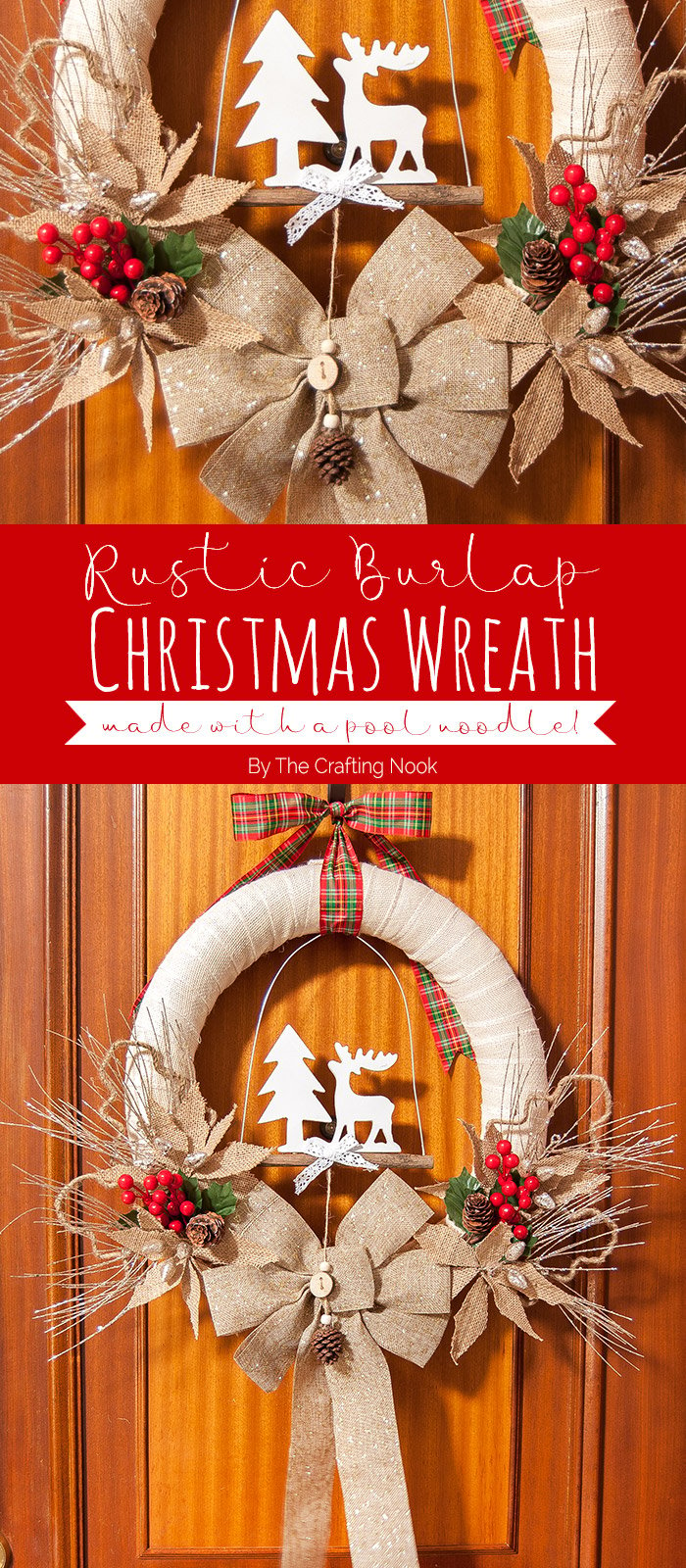 If you combine burlap ribbon with Christmas ornaments, the outcome would surely be rustic and this DIY can prove it. You would need a pool needle, small hose, burlap ribbons and bow, flower spray, and pine spray decor. Choose any ornament you would love to hang indoors and get started with it! 
17. DIY Pinecone Wreath
Collect some small and big pinecones from a dollar store for this one. You can also use pines from Autumn decorations to make this easy DIY. The wreath would take about an hour to complete and I am not boasting here! You can also use fairy lights or faux berries for some extra sass. 
18. Christmas Tree Wreath
There is nothing better than reusing junkies and creating something this good for your seasonal decor this winter! Take mason jar lids, fix the ball ornaments with hot glue, and make a tree shape with the lids. This is a must-try and fun DIY decor idea. 
19. Chic Advent Calender
We know how good wooden clocks look and they portray the ultimate rustic vibe. This DIY is a clock and Christmas advent calendar, mainly a wall art. You would need a clock hand, big board, stain, paint, and snowflake stencils for the decor. The wall art looks stunning above a decorated mantel.
20. DIY Burlap Garlands
Garlands don't have to be green and made from faux leaves all the time. Let's switch to a unique and unconventional design with this burlap garland. You need to know basic stitching and just be careful while you are cutting the burlap ribbons. 
21. DIY Ball Lantern
Again, if its Christmas, vibrant luminaries would be a must-have! This chic and stunning ball lantern is a bit tricky to make but all the efforts are worth it. The outer design is completed with the help of twine or cotton yarn and to hold the shape, you have to use petroleum jelly, some white glue, and common adhesives. Just give it a try and you won't regret this! 
22. DIY Jingle Bells
Cut down a long square dowel into 6 pieces. Make some flat-rolled rosette for each dowel and spray paint each dowel with white paint. Finally, you just need some medium jingle bells to complete this easy Christmas decor idea. 
23. Soda Bottle Centerpiece
A perfect centerpiece for your outdoor table, this quick DIY has that rustic vibe and can be a cute Christmas gift as well.
Get some cute soda bottles for this and also prepare a wooden crate with three pieces of gorilla wood and stain them. Use cherry stem and faux leaves for decoration and done, it looks stunning! 
24. Pinecone Christmas Trees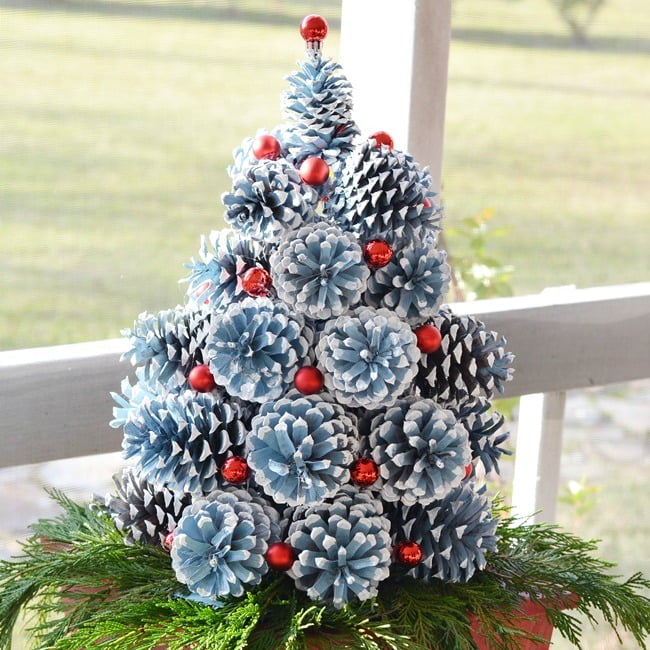 These little trees here come with a rustic punch and I cannot take our eyes from it, can you? You would just need some pinecones to complete the decor and they can be used anywhere. Decorate the tree, mantel, or the dinner table, the strategy here is to make it look elegant with the rustic vibe! 
25. Burlap Tree Decor
If you want to try a rustic decor for your Christmas tree this year, this one is for you! It is so unique, I mean, nobody uses burlap ribbons for the decorations and the glittery ornaments are contrasting it so well! You can also print some messages in the ribbons to customize it. 
26. Lighted Gift Box
A wonderful outdoor project, these gift boxes are meant to illuminate the outdoors with an elegant touch. You would need some wood for the outer frame, a bunch of outdoor lights, and mesh ribbons.
The framework would take some time to build but its all worth it. You can also place it indoors, like beside the tree and it would still attract every eye! 
27. DIY Silver Ornaments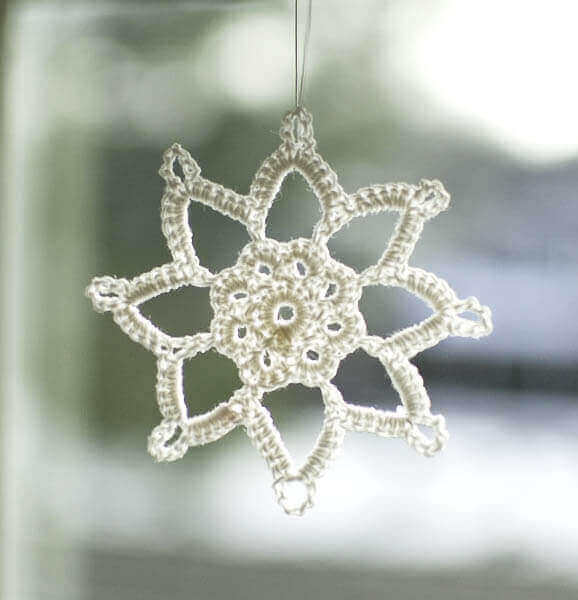 Christmas would be incomplete without those chic and cute stars and balls. They add life to the green tree and with this DIY you can skip buying them.
The snowflake patterns are made from crochet thread and they look gorgeous. Combine them with burlap garland and that rustic country look is complete!  
28. Vintage Christmas Tree
Did you ever make a Christmas tree with twine? All you need for this super easy DIY is a cone and twine. The trees not only look cute but can transform the setup of a place. You can combine it with burlap decor and let it ooze the rustic charm. 
29. Pinecone Candle Holder
My favorite of the lot, this candle holder looks graceful and can adore your Christmas dinner party with its rustic charm. You would need some pinecones of varied sizes and white candles to complete this DIY. You can also line them up on the mantel and bring in the elegant touch which would cost you peanuts! 
30. Burlap and Pinecone Wreath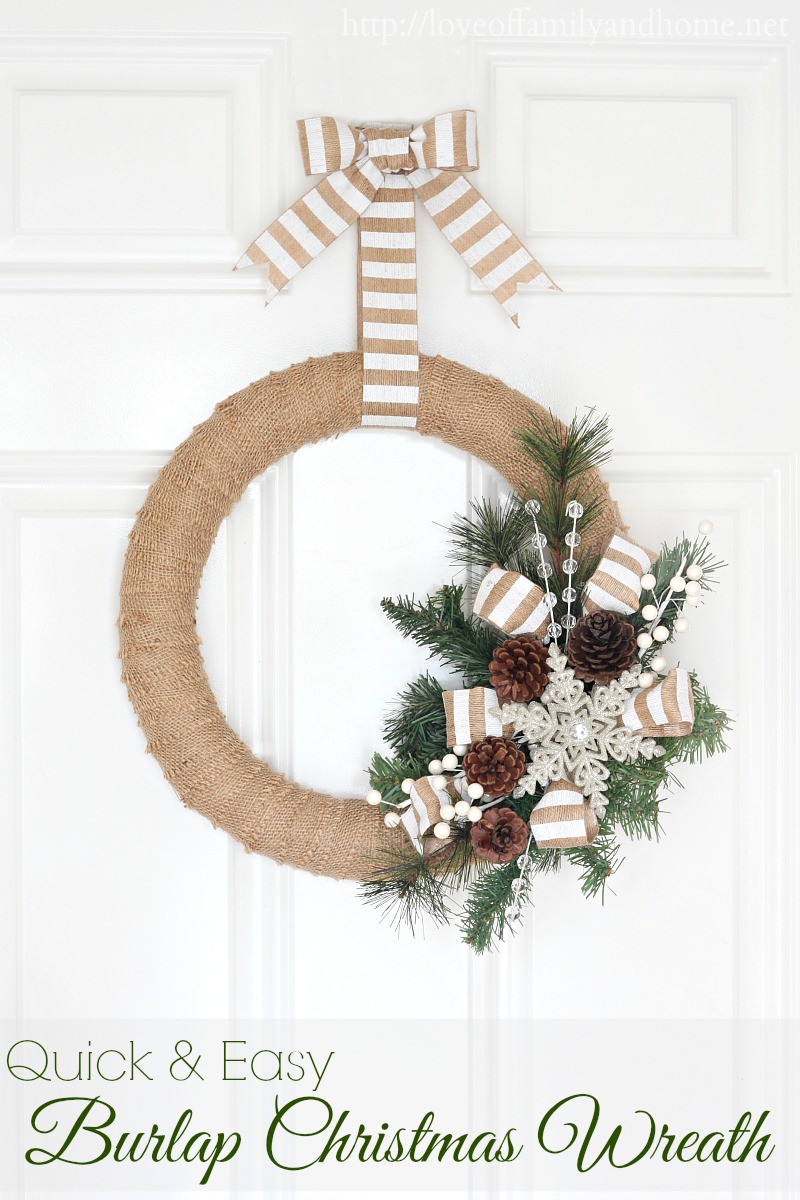 This gorgeous and elegant DIY wreath can steal the show any day and you cannot miss this. You just need burlap ribbons, wreath styrofoam, and lots of greenery and berries for the statement decor. Collect some pinecones to grace the beauty of the rustic burlap wreath and hang it in your front door this Christmas. 
31. Lighted Branch Centerpiece
Can you imagine that fairy lights can bring this charm to some snowy pine cone branches and twigs? You have the results here! I don't have words to define the beauty, they look vintage, gorgeous and can light up those chilled nights like nothing else. I did say that luminaries are important! 
These DIYs are easy and would be a fun winter project that would also help you in the seasonal decor. If you are confused, don't be. Just try your favorite and I am sure you will shine and make a masterpiece!