This Post may contain Affiliate Links. Please read our Disclosure for legal jargon.
Did the much-awaited festive season just arrive? I know how exciting it is, with all those lights, rustic seasonal decors, and yes, gifts! 
Choosing the perfect Christmas gifts for your loved ones can be difficult but why settle for one when you can pick many? No, you don't have to spend fortunes on it, just make some DIY baskets for your friends and family this year.
Whether you are looking for a gift for mom or hostess gifts for all Christmas parties, there is something to please everyone. These themed baskets are stuffed with lots of surprises the lucky recipients will actually use.
From kids-friendly gifts like chocolates and ice cream sets to mimosa and sangria kits, you can customize it all and present it with lots of love and warmth. Check out 31 DIY CHRISTMAS GIFT BASKETS and rush to the market right away!
1. Ice Cream Scoop Basket
Getting surprise gifts is nothing less than happiness and everybody loves ice cream! Share a gift basket with ice cream cones and sprinkles this Christmas and let your friends and family celebrate the cool season with some delicious ice creams! 
2. Box of Sunshine
Nothing is cozier than chilling under the sun rays in the winter months and enjoy a surprise gift from your special ones! Prepare an all-yellow DIY gift basket for your loved ones this Christmas and make them blush. You can fill it up with anything, from personalized stationery to candy bars, and make the basket adorable. 
3. Coffee Lover Gift Basket
This is something that coffee lovers would swoon for and I know you will agree with me. Put together those coffee beans with mugs, sugar, and creamer and make this themed basket something to remember. Isn't it relaxing to have a hot coffee in those chilly winter nights?  
4. Sangria Gift Basket
This one is a drink dispenser filled with sangria ingredients and it looks so cool. If you are attending a Christmas dinner party, make this sangria basket as a gift for the hostess. Also, you know this could be an awesome gift for all the wine lovers out there!      
5. Tackle Box Craft Kit
Since the winter holidays are right at the door, make a craft kit for kids, and gift it to the little ones in your family. It looks so good and attractive and could be a huge motivation for kids to start working on crafts. Fil it with colored pens, glittery glues, and some beautiful accessories to glam it up!
6. Perfect Pedicure Basket
A perfect DIY for the hostess, people do need moisturizer and lotions in the intense cold season and this gift basket is nothing less than perfect. Send in this personalized pedicure basket to your loved ones this Christmas because those pretty feet need some love, isn't it? 
7. Christmas Sundaes Kit
I did mention an ice cream kit and here is another one with all the sundae ingredients. You can also put in some tasty cones and make the sundae kit more delicious and worth the craving. This would be the perfect Christmas gift any day! 
8. Snow Survival Kit
Those days right after a heavy snowfall, when all roads are blocked and you are somewhat stuck in your house, it is frustrating! Save the day for your loved ones by gifting them this awesome DIY snow survival kit. Filled with lots of love and chocolates and cookies and lollipops, it is a wonderful gift. 
9. Morning Mimosa Gift Basket
Breakfast cocktails are healthy and mimosa tastes so good. Gift your holiday hostess this festive prosecco gift basket, filled with fresh juice, Champagne flutes, and fresh fruits. Customize it with a cute gift tag and a gorgeous mimosa gift basket is ready to make people smile! 
10. Cheese Lovers Basket
We have already taken care of the coffee lovers and this one would be more special, I promise. This DIY would be the ultimate cheese board basket full of artisan crackers, some of your favorite cheese spread, and some wine for the extra sass. This would be the most effortless way to entertain and treat your loved ones this Christmas. 
11. Cozy Gift Basket
This Stay Home themed basket is way cozier than it looks and I mean it! It has a warm blanket, hot cocoa, and a puzzle to make the perfect stay home day. You can also put in a jar of marshmallows in it to funk it up a little bit and it works! 
12. Hot Cocoa Basket
Just like the hot coffee, hot cocoa would be extremely relaxing on a cold winter evening right beside the cozy fireplace. Gift your loved ones a basket full of hot chocolate mix, candy canes, chocolate syrup, and a statement mug. Attach a personalized gift tag with it and pen down some super sassy quotes. It's time to warm it up with chocolates! 
13. Wine Lovers Basket
Make a homemade DIY gift basket for your family this holiday season and make those best wishes warmer. This wino-themed bundle of joy will make them forget the snow and enjoy a red Christmas wrapped with your love and I am sure they will love the statement wine stopper and unique scented candles. Attach a Merry Merry tag for that extra edge and glam it up. 
14. Bundt Cake Basket
Winter and baking are synonyms to each other and I know you can relate with me. I mean, I love to bake when it snows, and enjoying homemade cookies and cupcakes would be bliss!
Get your loved ones one of these bundt cake baskets loaded with every equipment that one would need to make some delicious cakes and let them celebrate with desserts!
15. Christmas Pop Bottle Gift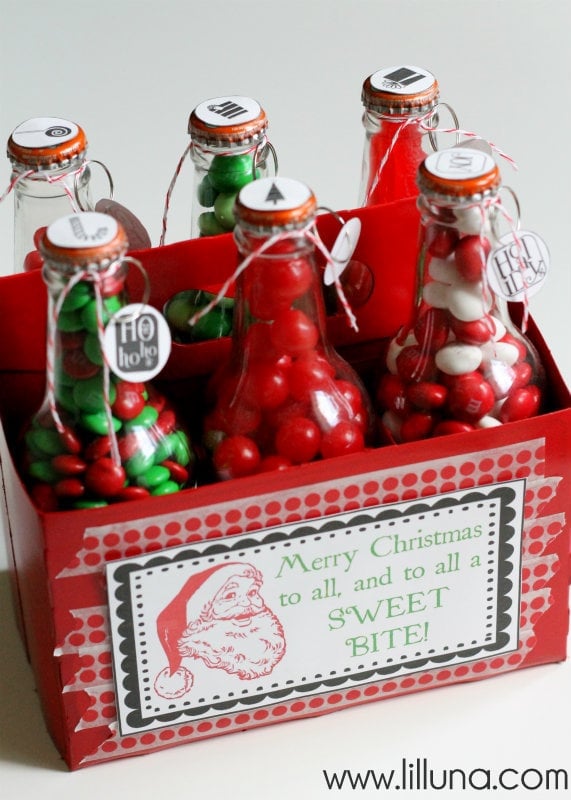 We all love sweet Christmas treats like candy and jelly beans and no one has to have a sweet tooth to enjoy them. Take a cream soda pop bottle set, decorate it with washi tapes and printables and fill them up with sweet treats! You can also customize the tray and make the perfect DIY basket. 
16. Guest Bathroom Welcome Basket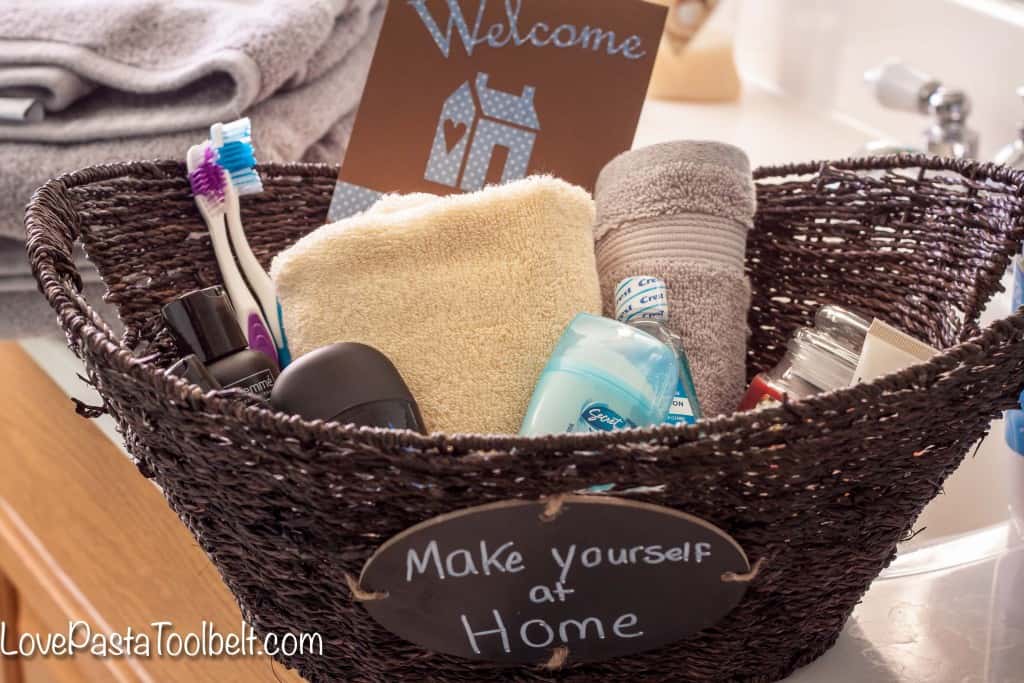 Not everything is meant for the hostess, I mean, even you could host the holidays this year and your guests deserve some warm welcome. Prepare this easy DIY guest bathroom basket filled with bathroom essentials and it would be an amazing welcoming gesture! 
17. Popcorn Gift Basket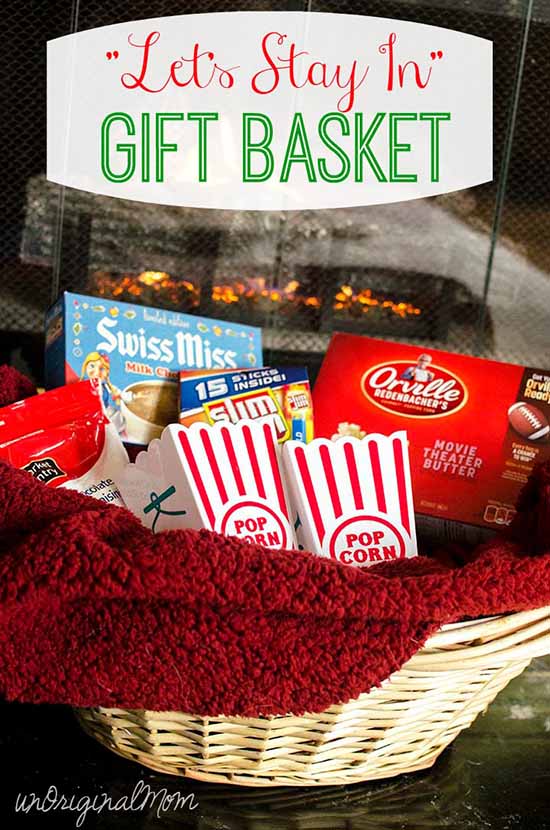 Holidays are the ultimate days when you can binge-watch shows without any guilt and just relax with some snacks. Gift your loved ones the ultimate chilling basket with customized popcorn tubs and let them enjoy Netflix with tasty treats. 
18. Pancake Gift Basket
So, a mimosa cocktail in breakfast might not be for the kids, but this pancake gift basket is surely for everyone! Take a little, woven basket, fill it up with a homemade pancake mix, and orange juice. You can also put in some bacon and champagne to make it the ultimate breakfast package. 
19. Morning Coffee Gift Basket
This DIY is mainly for that refreshing morning coffee if you are going for a jog or working out at your home. Put in some marshmallows, disposable coffee cups, and candy canes in the DIY basket. Coffee feels so good and would also be perfect on Christmas morning with doughnuts and cookies. Yummy! 
20. Warm and Cozy 
This is meant for winter holidays and I mean it! It has a cozy blanket that would always keep us warm and cozy. You can decorate the basket with Christmas ornaments like small bells, cute tags and make it look attractive. 
21. Pop Gift Basket
The basket is full of things that have 'pop' and it looks so sassy! From corn pops to soda pops, it has so many yummy treats. This unique design would be a visual treat and also the perfect gift for foodies out there. Gift this DIY basket to your loved ones this Christmas and make them blush and smile! 
22. House Guest Gift Basket
Another one for your guests if you are hosting the holidays this Christmas, this DIY gift basket is filled with household essentials like toothpaste, body wash, snacks, and much more stuff. Gift this to your guests and make them feel warm at home away from home. 
23. Hot Cocoa Bar
We did talk about how a cup of hot cocoa can make our day in the holidays and here is another gift option where your loved ones can relish the cocoa. It is more of cocoa bar stuff, with marshmallows and candy canes to pair up with the hot cup. This could be the ultimate Christmas gift for your friends if they love chocolate! 
24. Beauty Themed Basket
If you are looking for something glam for your hostess, this DIY would be a great option. It is filled with beauty products like eyeliners, base, and lipsticks, and mostly, women love makeup! This one would be an unexpected gift basket and she would love it. 
25. Gifts in a Jar
This is so far the most convenient and trendy gift idea and I think you will relate with me here. You would just need a mason jar and fill it up with some special or regular treats or make a themed gift jar like an ice cream party jar or cookie making jar and so on. The options don't end here you see! 
26. Banana Bread Gift
A delicious gift for the hostess, this DIY basket is loaded with banana bread dipped in honey butter! You can also pack some coffee beans to make it a complete breakfast package and your hostess would be so impressed with everything. 
27. Chocolate Gift Basket
Festivals are incomplete without chocolates and yes, we do get silly cravings! Treat your loved ones with a Christmas chocolate gift basket during the holidays and make them smile. Fill it up with varieties of chocolates like dark, white, nutty, and the list goes on. I know you will be so happy to see them happy, so give it a try! 
28. Tea Gift Basket
We had so many for the coffee lovers and here is an easy and incredible DIY for the tea lovers! Don't feel left out, I know how important a good cup of tea is and you can make someone's day with this basket. Fill it up with a variety of tea and don't forget to put some biscuits to complete the package. 
29. Minibar in Jar
The title rhymed perfectly, you did blush with the idea and it is definitely what you think it is! I have already said how beautiful this whole gift in a jar concept is and this DIY is taking it to the next level. So, gear up for a cocktail party because you have a jar full of alcohol bottles and it looks so sassy! 
30. Gourmet Gift Ideas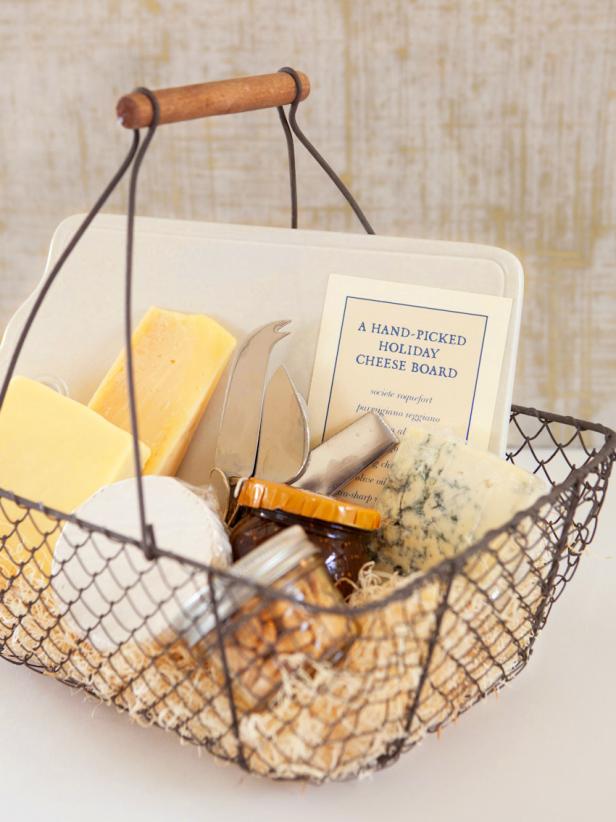 Much like the cheese lovers gift basket, this DIY is full of cheese, nuts, and signature crackers. Served in a vintage basket, this would be a stay home treat any day and your friends would love it. Also, put in some spreading knives to make it a whole package with no loopholes. 
31. Entertainer Gift Basket
This DIY basket is full of delightful pieces like a vintage appetizer tray, an olive jar, and a Moscow mule glass candle. It looks so classy and authentic with all those gorgeous pieces. Present the tray beautifully to complete the decor! 
Christmas is very exciting mostly because of those gifts and you have just explored so many DIY gift ideas. Choose your favorite and prepare those baskets right away!